#FFFFFF
Background
The Insurance Services Office (ISO) provides information to insurance companies, who use the information to determine insurance premium rates for commercial and residential properties.
How actual premium rates are determined are proprietary; however firefighting capabilities, fire loss experience, marketing strategies and underwriting guidelines are all considered. The ISO Public Protection Classification (PPC) evaluation process evaluates four areas of the community: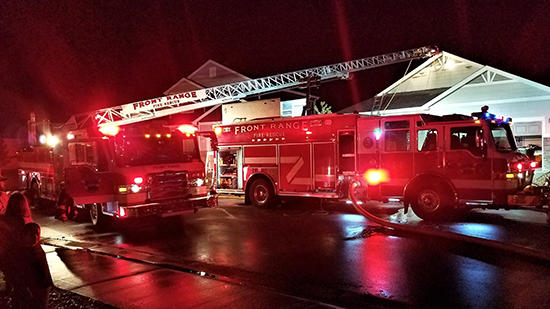 The emergency communications center serving the community
The fire department serving the community
The community's water supply
Community Risk Reduction
ISO typically evaluates communities every five years. Front Range Fire Rescue cooperates with all ISO evaluations to ensure that accurate information is reflected during the evaluation process. The most recent ISO evaluation of our community was in 2016.
How FRFR Is Involved
Front Range Fire Rescue participates with ISO because this model provides an objective inventory of fire suppression capability and facilitates citizens' ability to obtain optimal insurance coverage. The ISO evaluation of a fire department includes, but is not limited to, fire station locations, apparatus, staffing, response performance, and firefighter training. Oftentimes, the fire district's community risk reduction programs are also involved in that category of the PPC evaluation process. These programs include fire code enforcement, public education, and fire investigation.
The community's ISO rating can have a direct impact on the premiums that home and business owners pay for their property insurance. While the specific economic impact is difficult to assess due to the proprietary nature of the ratings and variability between insurance companies, lower ISO ratings generally equate to lower insurance premiums. Therefore, Front Range Fire Rescue strives to maintain a low (better) ISO rating.
Current ISO Ratings of the FRFR Communities
Class 3
This rating applies to properties within five (5) road miles of a fire station and within 1,000 feet of a fire hydrant or approved, alternate water supply. This rating includes properties that are within five road miles of one of our automatic aid fire departments, if they are closer than a Front Range Fire Rescue station.
Class 3Y
This rating applies to properties beyond 1,000 feet of a fire hydrant, but within five (5) road miles of a fire station.
For More Information
GO TO: https://www.isomitigation.com/ppc/program-works/benefits-of-the-ppc-program-for-communities/